Four weddings and… another one!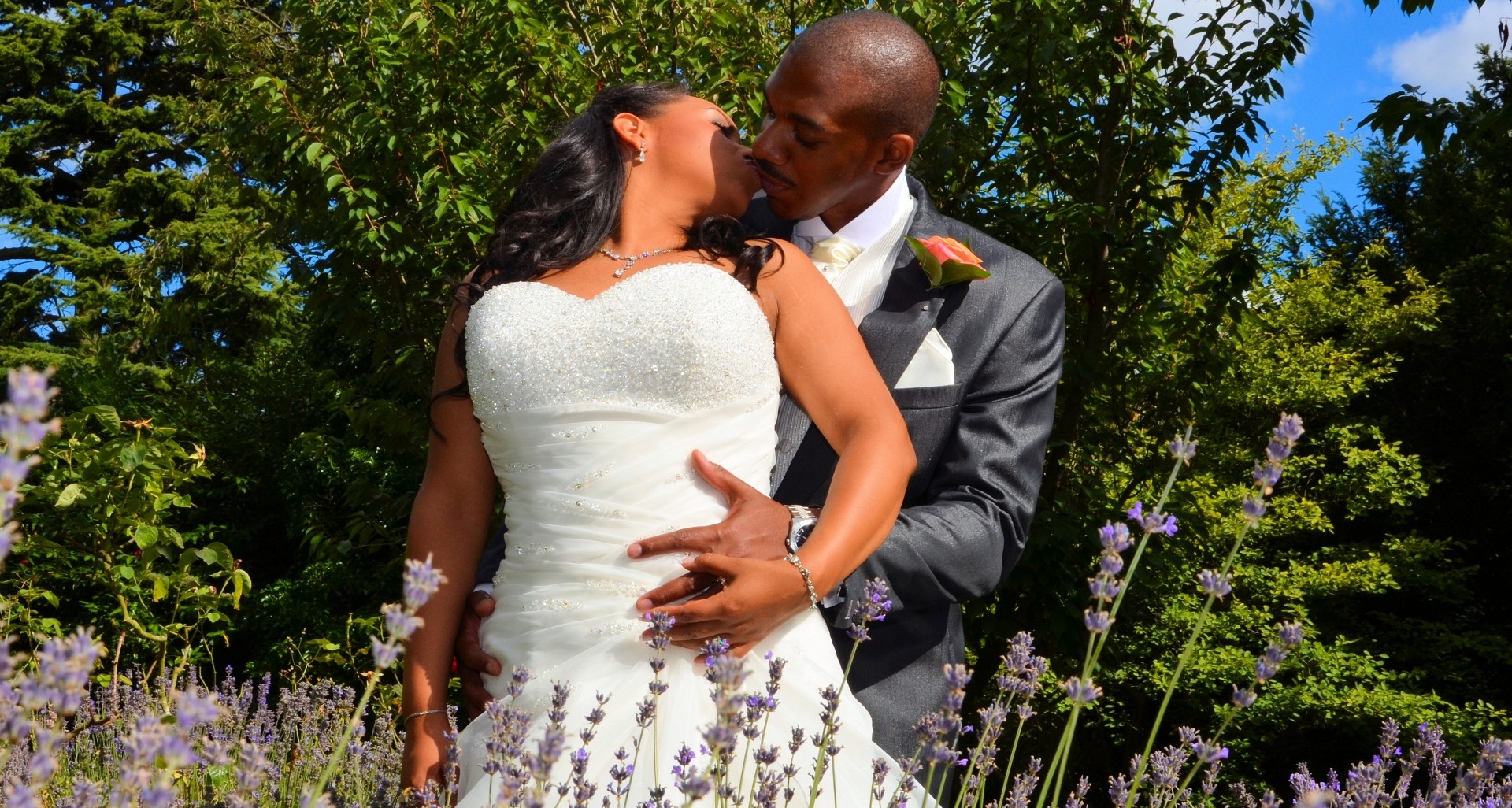 August is typically the busiest wedding month, with beautiful sunshine and warm balmy evenings. However, even we weren't prepared for how busy August was going to be, and as I sat looking at my diary , the thought of 5 weddings in 10 days was quite daunting – however in usual Pho2u! style we embraced the challenge and looked forward to seeing how different each wedding was, and as usual we weren't disappointed!
Friday 2nd August 2013 we jumped into the Pho2u! car and drove the short distance to Dunstable where Jamie and Kerry tied the knot at Dunstable Registry Office. The sun shone for them whilst we took pictures in the beautiful gardens with the backdrop of trees, flowers and blue sky. The couple then left to celebrate with their friends and family at the quaint little pub The Fancott Arms.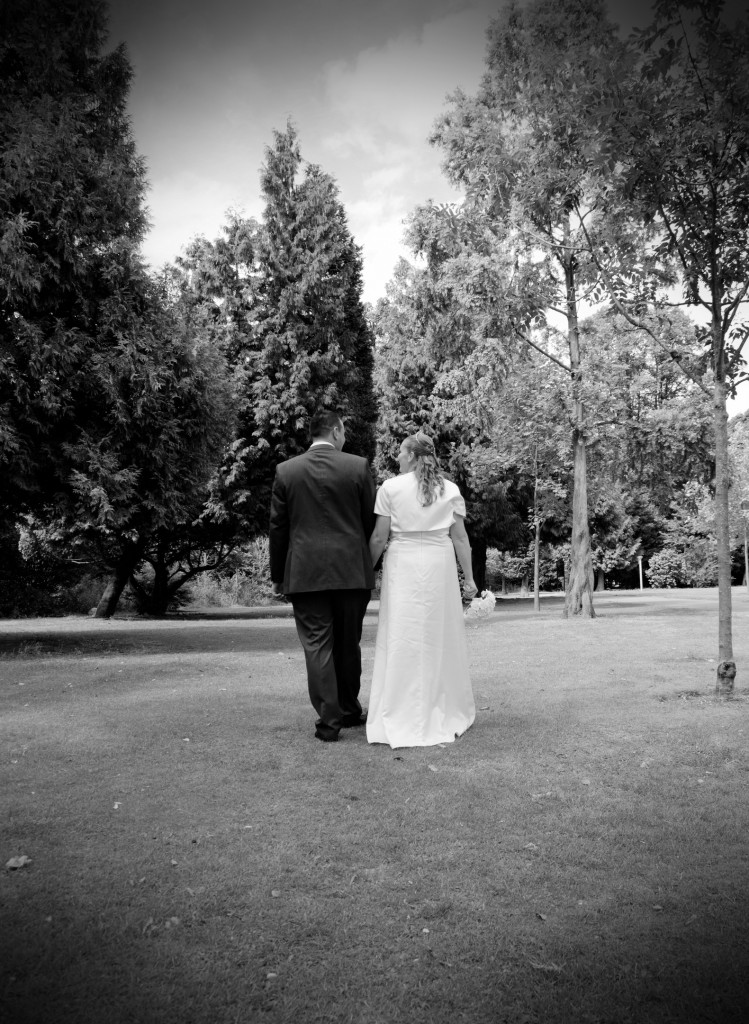 As Saturday 3rd August 2013 dawned and the sun began to get warm quite early, I headed up to The Barns Hotel in Bedford for Sarah and Olly's big day. With beautiful photo opportunities in the gardens, besides the river and the barn, I was quite spoilt for choice. Sarah and Olly had chosen a Cadbury's Purple Theme for their day and the barn looked beautiful with all of the coordinated decorations. Olly and Sarah are fun couple, so when I suggested some "different" shots the couple embraced this wholeheartedly. My favourite picture from the day is the Groom showing off his new wedding ring whilst his bestman and usher get all excited and squealy over it! It was on the drive home with the summer sun beginning to dip into the evening sky, that I realised I would be at the other end of the County the next day (well Hertfordshire) and if the "Red Sky at Night, Shepherd's Delight" saying was anything to go by, then Sunday was going to be a beautiful day!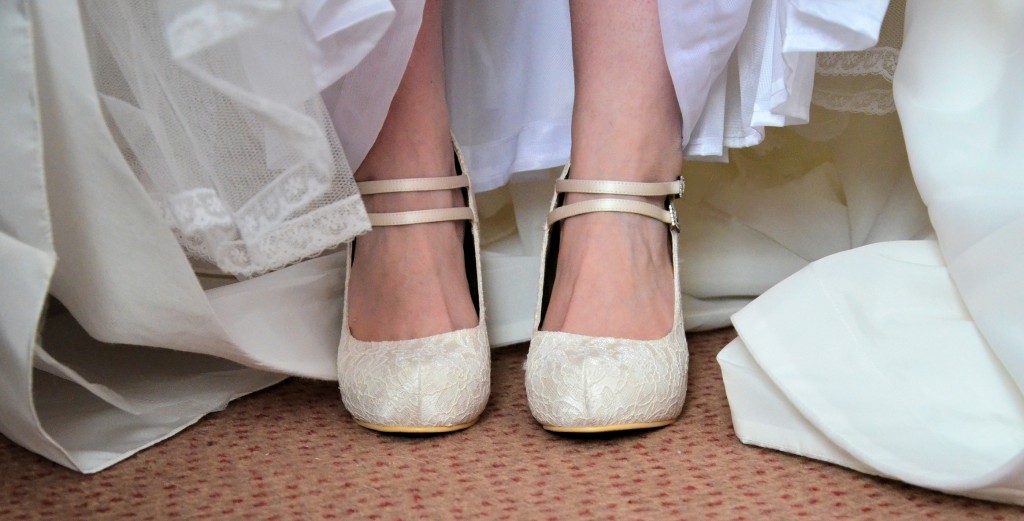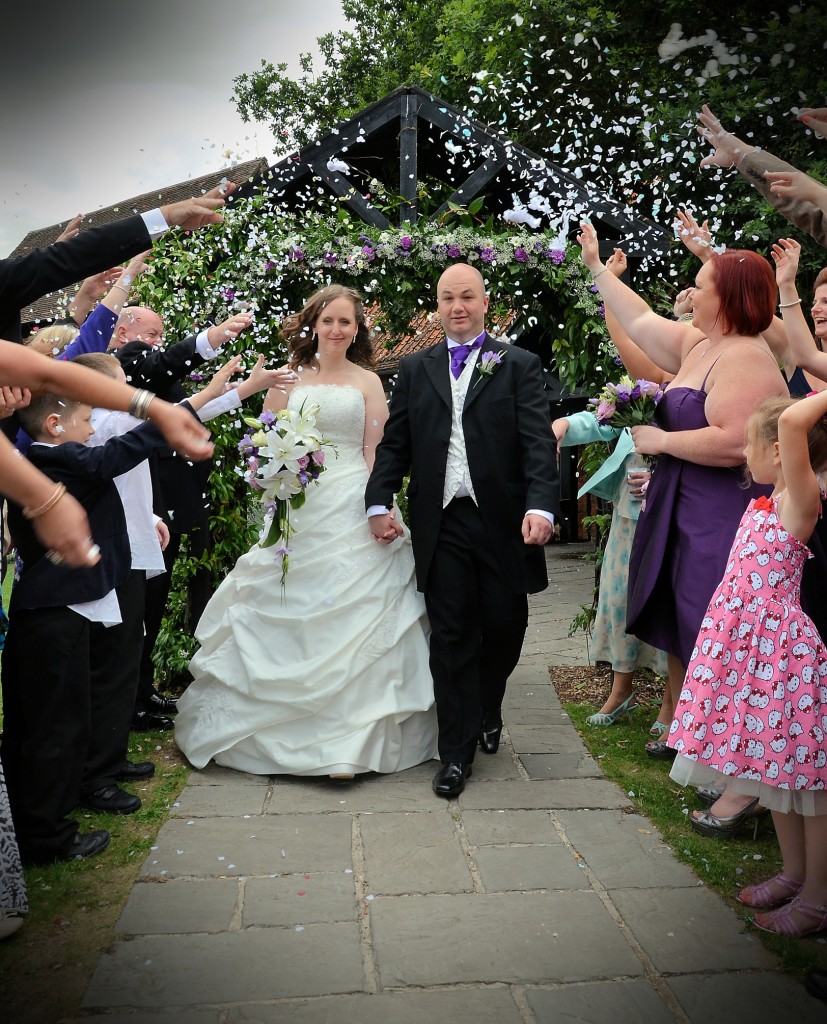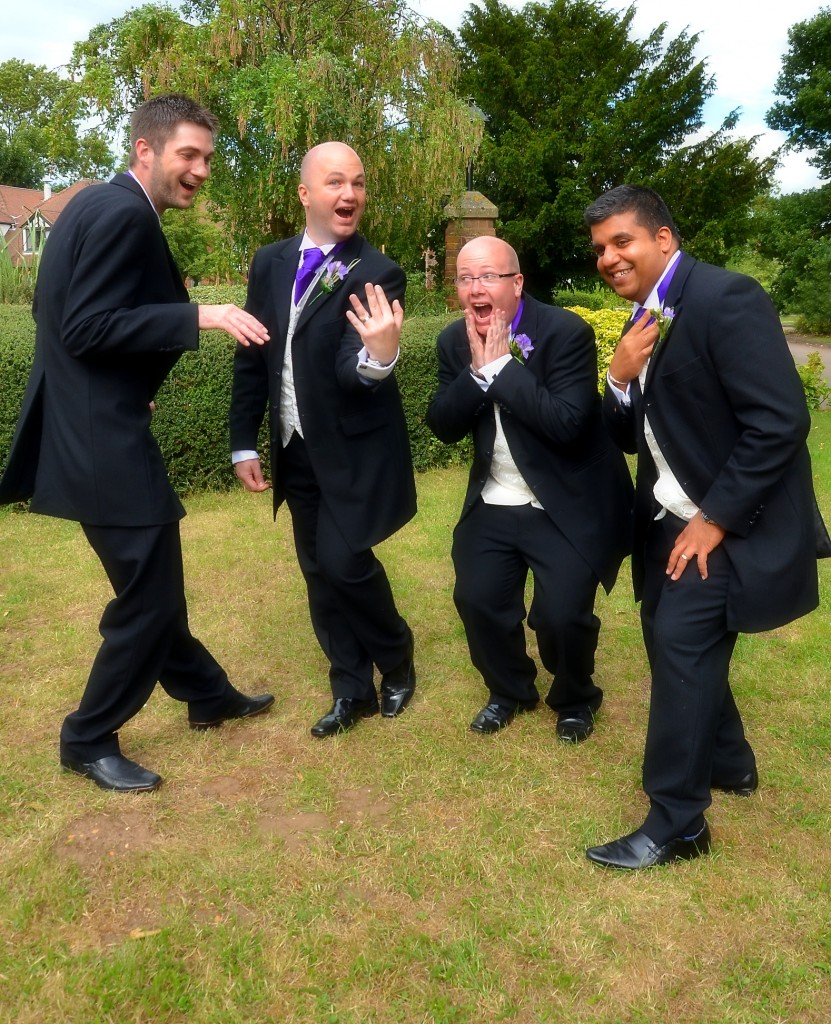 Sunday 4th August and the Sun was high in the sky and there were a few perfect fluffy white clouds punctuating the blue as I drove to Tim and Tess's wedding at Shendish  Manor Hotel in Hemel Hempstead, Hertfordshire. Shendish Manor has really beautiful grounds with fountains and old garden walls and gates that create secret hidey holes – perfect for romantic shots. Tess and Tim's 5 boys were all smartly dressed in the couples colour themes of red, black and white. The two older boys wore mourning suits to match their Dads with red cravats, whilst the three youngest boys wore all white outfits with matching white shoes… The boys were all a real credit to their parents and we managed to get a great shot of all 5 of them posing together! However my favourite picture is of Tess and Tim sitting on the grass together watching the fountain, it was a real moment of just capturing two people very much in love.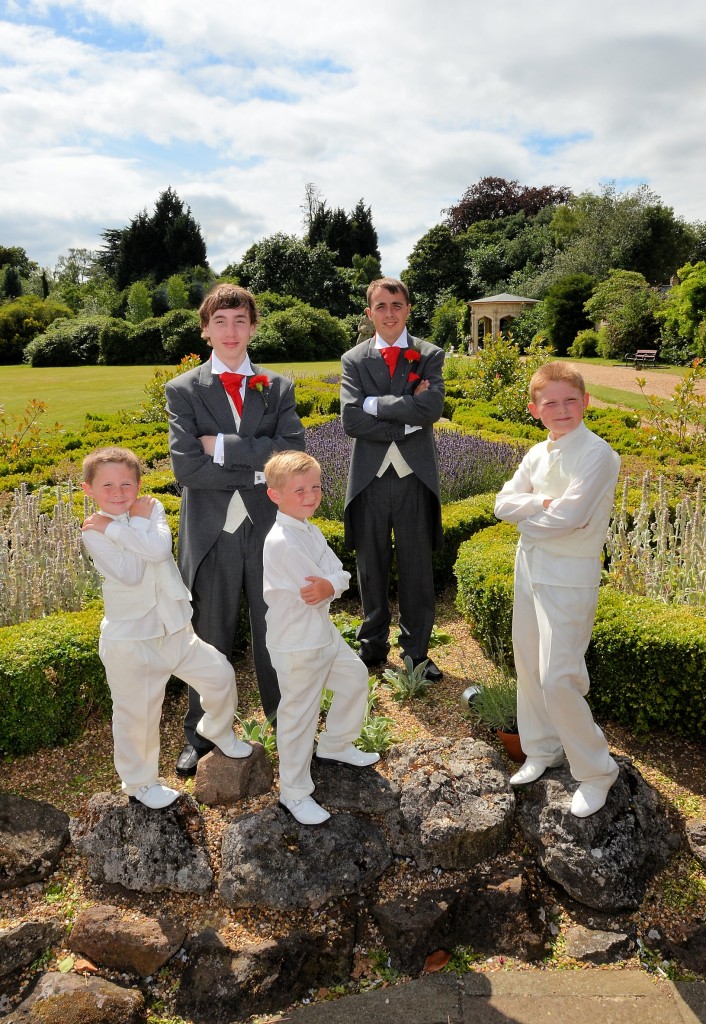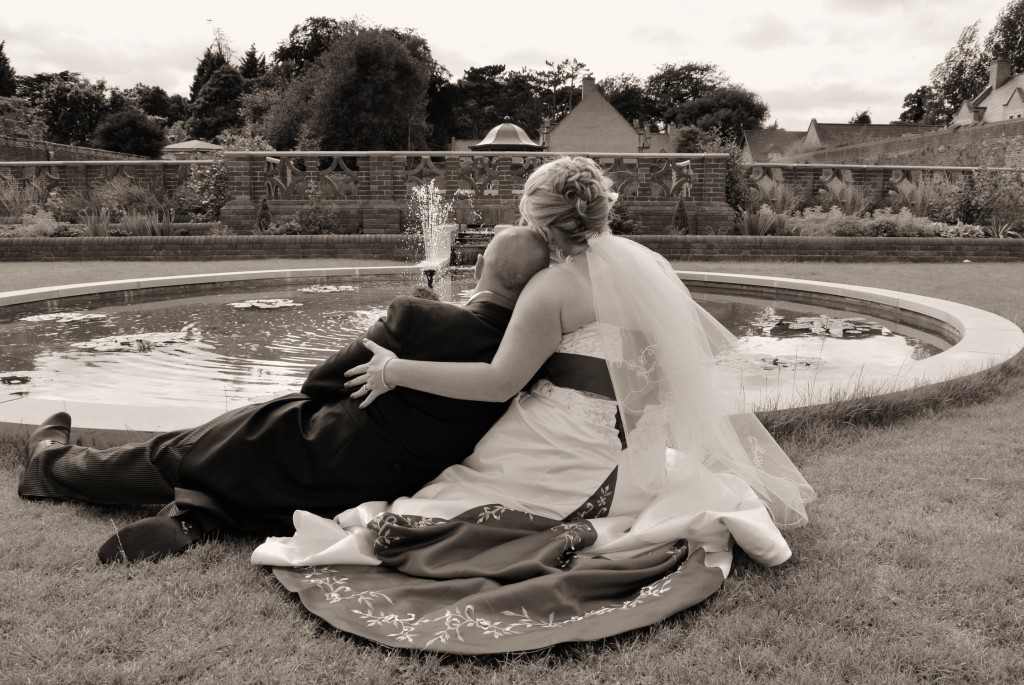 I woke up Monday morning exhausted but, incredibly eager to start looking through all of the moments I had captured throughout the weekend, as each wedding had been so different! As my week progressed, I met new couples whose weddings we are planning for next year and some of my past couples to deliver albums. I found that though I wasn't actively shooting weddings, I was currently living and breathing them! Next thing I knew it was early morning on Saturday 10th August and I was driving to the Holiday Inn, Dunstable for the wedding of Vicky and James. The skies were ominous and the air was thick with storms, whilst driving through Dunstable the heavens opened and what can only be described as sheets of rain descended from above. My heart sank as up until now all our couples had been really lucky with the weather. However after about a 15 minute downpour, the clouds began to clear and it got warm… really warm! The room was beautifully decorated in hues of dark purple and lilac, but more excitingly they had a candy buffet on a proper sweetie stand and everything matched! This wedding was also a big first for Pho2u!, as this was the first official outing for our new photobooth. The photobooth was a massive hit. We have some brilliant shots of Vicky and James's bridesmaids in their beautiful purple dresses, decked out in silly hats, oversized sunnies, feather boas and inflatable instruments!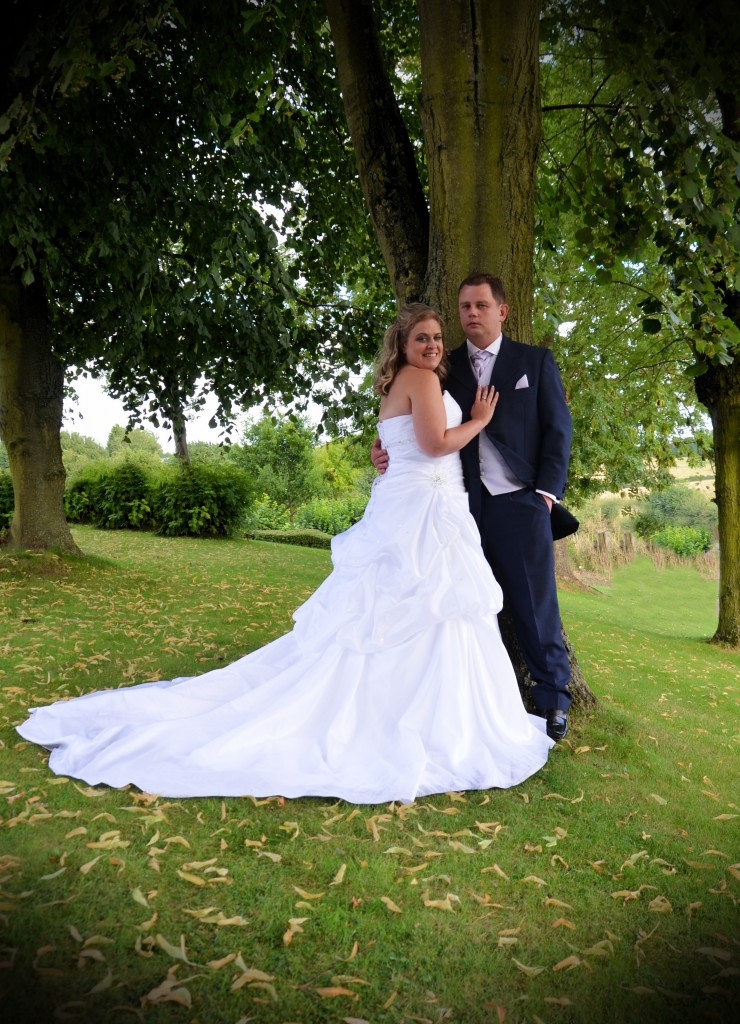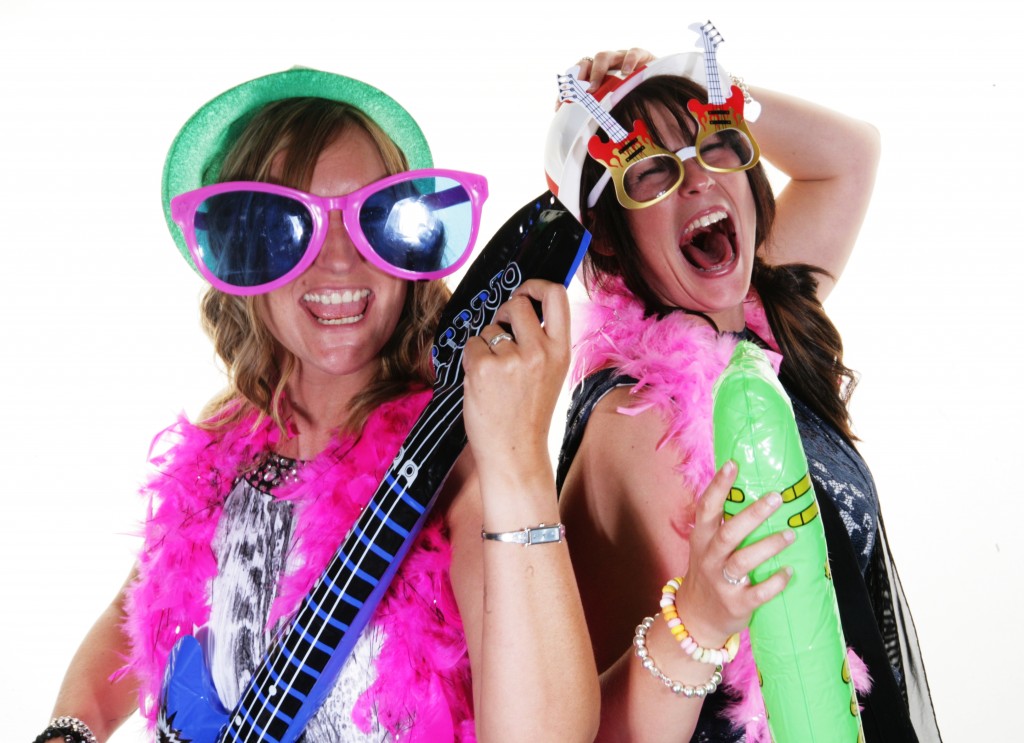 Saturday night rolled into Sunday 11th August and I got in the Pho2u! car and drove along the M1 towards a church in Ilford, Essex for Coral and Stevens wedding. The summer sky was back and I realised the daunting prospect of 5 weddings in 10 days were actually coming to a close and I hadn't even realised! Coral and Steven had chosen a Peach and Orange theme and the church looked beautiful bedecked in such summery colours, however nothing had prepared me for how beautiful their venue at Hunton Park near Watford was going to look. Both Coral and Steven had really thought about every detail and the room looked stunning. Hunton Park is renowned for its stunning scenery, but even I was blown away by my favourite image from their day, it perfectly captures just how much this couple were in love…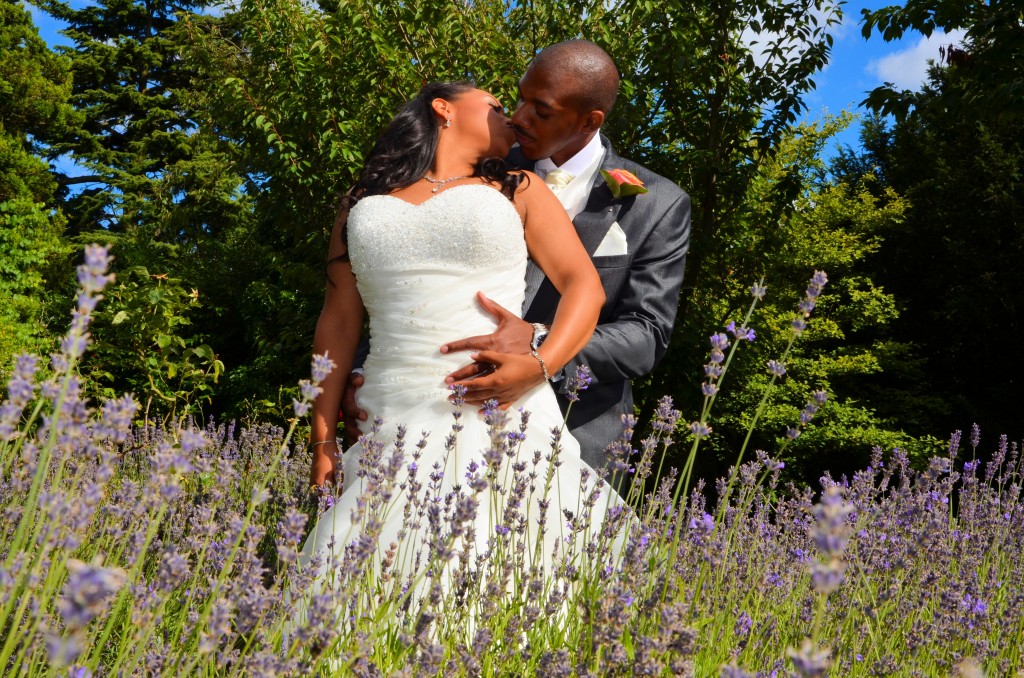 So 5 weddings in 10 days, easy peezy, lemon squeezy! I would like to say it was time for a well-earned rest, but we have downloading and editing to do. Oh did I mention it all starts again next weekend!