A dinosaur wedding?!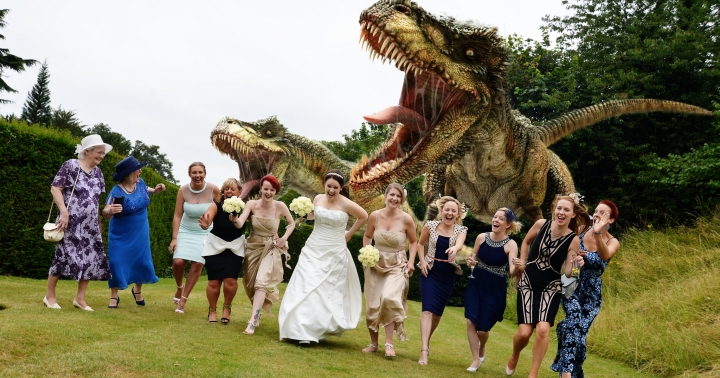 So you may be asking what exactly does a dinosaur and a wedding have in common. To be fair, up until a couple of weeks ago I probably would have looked at you in much the same way. However, after one fun loving, yet highly trusting couple, my perception of dinosaurs and weddings have been altered.
You have probably seen the latest wedding photography craze to ask your guests to behave in a certain manner i.e: running away from something in the background looking scared etc. Then during post production another image is merged to create a unique, fun and slightly quirky shot.
Having produced my first T-REX dinosaur wedding attack, I was very keen to try some different ideas.
My next couple wanted to do an unusual pose that could be used for their Thank you Cards. They wanted something fun, but something the guests hadn't seen on the day. The one thing I had discovered about the bride and groom was that they are really into comic books, DC, Marvel and Dragonball Z, so therefore it really had to be comic book style! This was easy, using the advantage of having equal numbers of Bridesmaids and Ushers, we posed the wedding party in an attack formation and gave the Bride and Groom "Super Powers". The picture was very well received, their guests loved the original thank you cards and since then things have well spiralled.
We have recreated famous film posters, more dinosaur shots and the ideas coming in from next year's couples are amazing and I cannot wait to get editing.
So what do you need when setting up one of these shots?
A nice open space, to enable a setting to be merged behind.
Guests who are not afraid to be a bit silly.
Imagination, the bigger the better!
and….
Enthusiasm…. lots and lots of enthusiasm!
The Original Image: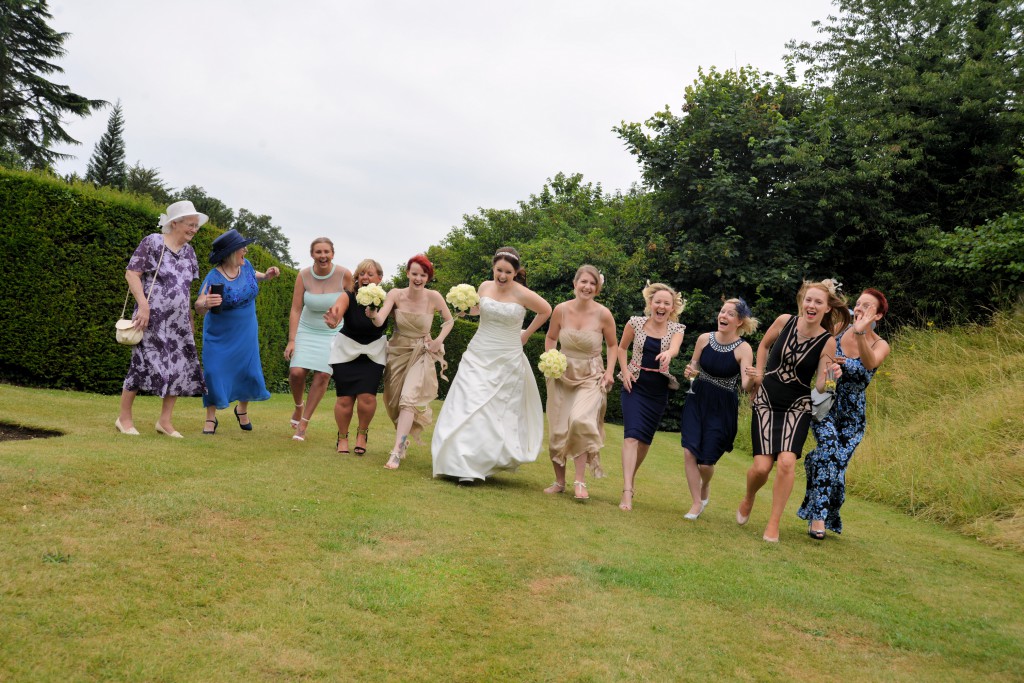 Dinosaur Wedding edit: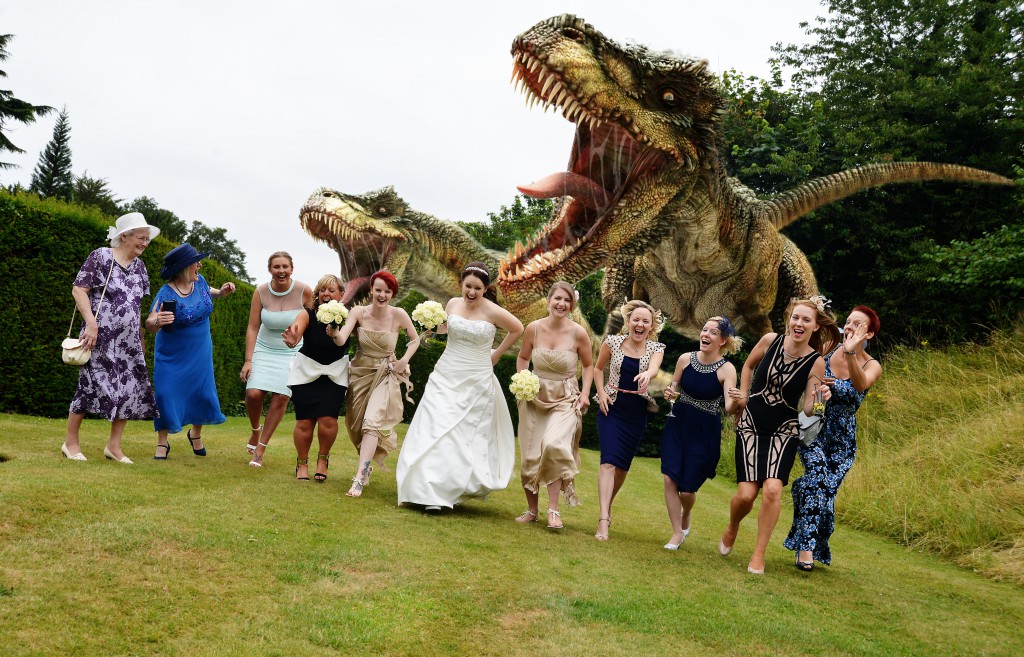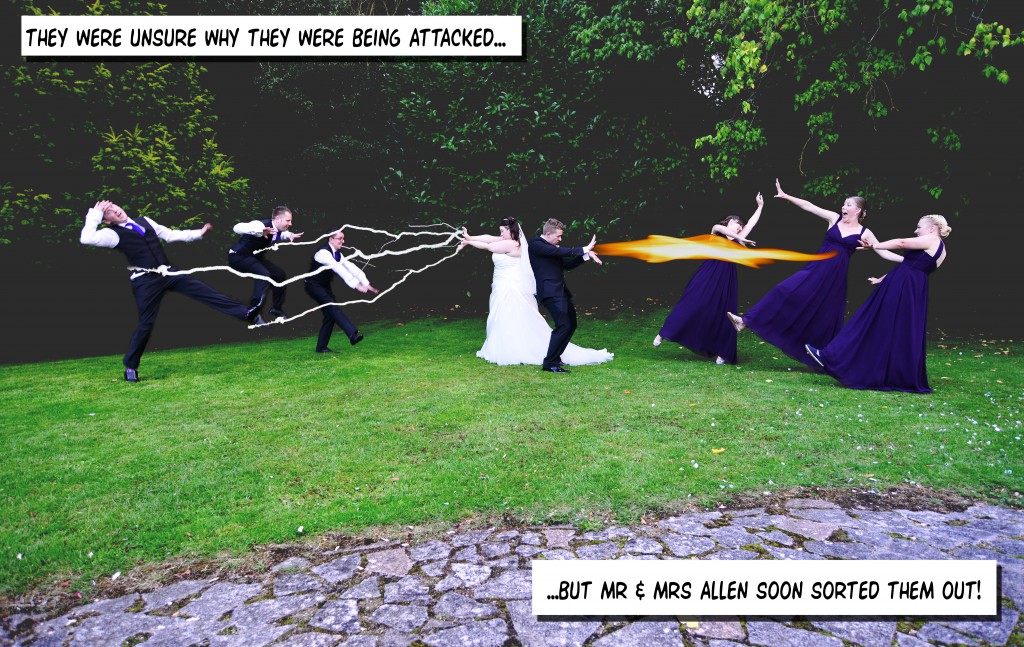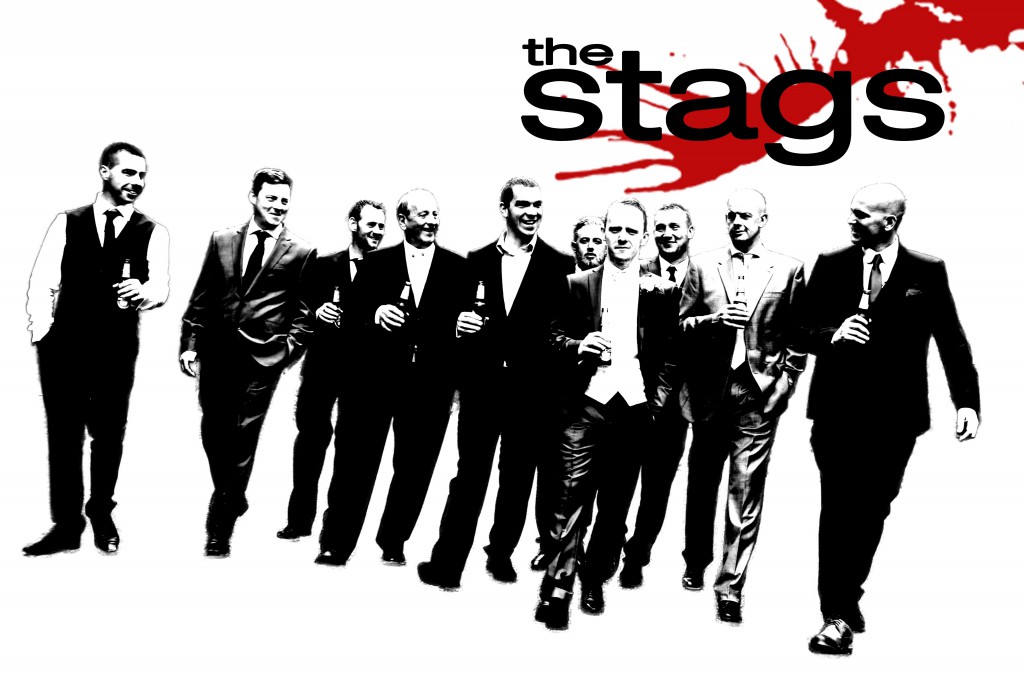 Please note, these photos are fun and not to everyone's taste – we will always try our hardest to get these images just right, but sometimes they are just not achievable and the editing of one photo can take up to 3 hours!!